Event From 2022-09-23 To 2022-09-25
Discover the Cocoricorando atmosphere for 3 days in the heart of Auvergne! Sumptuous and varied landscapes for all, whether you are a regular "offroad" or you want to taste for the first time to the ways.
What type of motorcycle ?
All trails, maxi-trails and side-cars are welcome. The duo is conceivable, with some offroad experience for the rider and the passenger.
No special preparation on the motorcycle except the tires necessarily with teats or crampons, crash-bars strongly advised, soft or rigid lateral cases OK.
Bivouacs, meals, drinks
To offer more conviviality, dinners, overnights and breakfasts take place in the form of bivouac, on secure field offering the necessary comfort (showers, toilets, GPS charging). Besides water, drinks are not included : a bar or a bar is offered on each bivouac, at nice prices. However, camping is not obligatory if you prefer to spend the night in the hotel or in a guest room (excluding registration). Lunch is at your expense in order to progress at your own pace and let your desires run free.
As the Paris-Dunkerque or the Cathar Moto Trail, the VERCINGETORIX is a 3 day mixed motorcycle tour (small roads and paths), in the heart of the Auvergne.
No competition, no chrono, a great adventure for all the owners of trails or maxi-trails, whether you are a regular off-road or you want to taste for the first time to the paths.


The course
You can choose between two routes: the "Adventure" route, which avoids the biggest difficulty of staying on easy and rolling paths, and the "Extreme" course which offers some extra sensations without being inaccessible.
The trail is sent to all registrants one week before departure, so you can at any time during the weekend change route as you wish it.
If you do not have GPS, you can rent (when registering) a GPS / Tripy II electronic roadbook reader.


Registering with La Vercingétorix commits you to comply with the Highway Code, the route using roads and roads open to traffic.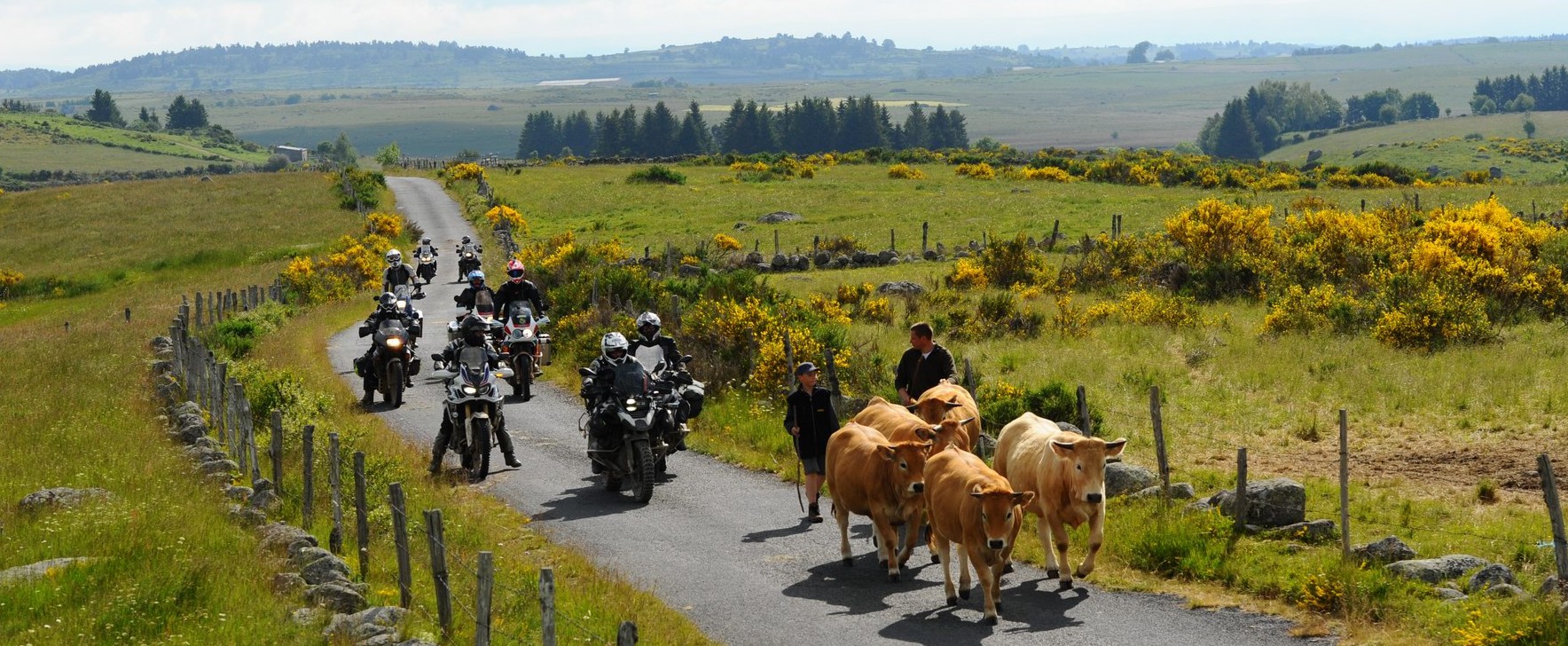 Official partners :

French press & media
Moto Revue
Juillet 2017
Road Trip Magazine
Juin 2016
La Vercingétorix 2022 is COMPLETE !
You can register on WAITING LIST, if a place becomes available we will contact you.
The Grande Vadrouille lasts 3 days. Only the 3-day package is offered.
DATES of the next edition : September 23-25, 2022.
Opening of registrations: 01/22/2022 - 9:00 a.m.
Registration includes :
- tracks ("Extreme" / "Adventure" / road) in GPX, TRB and PDF formats
- access to bivouac area
- access to sanitary facilities
- welcome coffee on friday morning
- Saturday and Sunday breakfasts
- Friday, Saturday dinners
- Gifts, goodies, souvenir photos
Available options :
- Tripy II GPS rental (110 € all taxes included)
- Accompanying package (or passenger) (135 € all taxes included)
- picnic basket for lunch (10 € all taxes included / basket)
- Luggage transport package (110 € all taxes included)
- Sunday final dinner (20 € all taxes included)
To register :
- create your account and/or login to our site (careful : 1 pilot = 1 account = 1 registration)
- When the registrations are opened, complete the on-line form
- Validate and then ensure your place on the event by making full payment of your commitment with creditcard online, or UNDER 10 DAYS with bank transfer.
After registration:
you will receive 3 emails:
- validation of the registration after receipt of payment (automatic and almost immediate for online payment).
- a few weeks before the big day, the program and the first useful information, in particular meeting places and accommodation suggestions for non-campers.
- 7 days before the big day the last useful information as well as the trace files.
No news from us pertaining to this calendar, check the "spam" in your mailbox!
What happens if the event is cancelled ?
If the event had to be canceled due to the health crisis, you would have the choice between full reimbursement or postponement of your commitment. For any other cancellation conditions, consult the Event Rules.