Event From 2023-09-22 To 2023-09-24
MOTORBIKE (or motorbike + bicycle) : 485,00 €
eMTB / BIKE : 295,00 €
On the motorcycle side, Rock'n'Trail is La Vercingétorix that many know and appreciate!
On the cycling side, Rock'n'Trail is new, and it's Cocoricorando dedicated to bicycles and in particular eMTB!
On the shows side, the Rock'n'Trail are concerts, 2-wheel shows and entertainment to tie it all together!
What about bicycles AND motorcycles?
Turning to cycling and especially electrically assisted mountain biking in addition to motorcycling is a way for Cocoricorando to adopt a more eco-responsible approach and to offer its know-how to as many people as possible.
To reassure everyone from the outset: the bike tracks offered are very different every day from the motorcycle tracks!
For the rest, there are still only 2 wheels, there is balance, fun, discussions on tires, discovery, sharing, solidarity... In short, a multitude of points which you can all discuss together (or not!) on the bivouac.
The philosophy remains that of Cocoricorando: no competitive aspect, pleasure, respect and conviviality!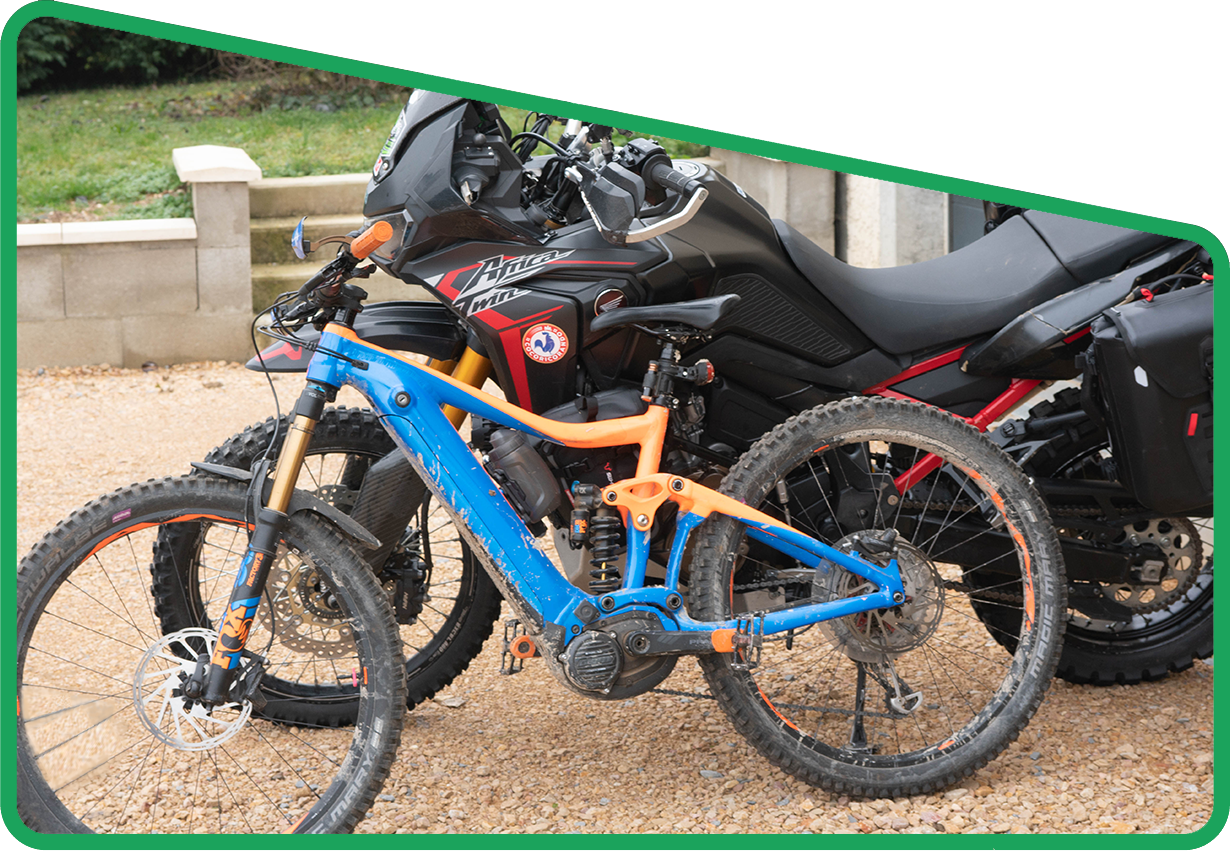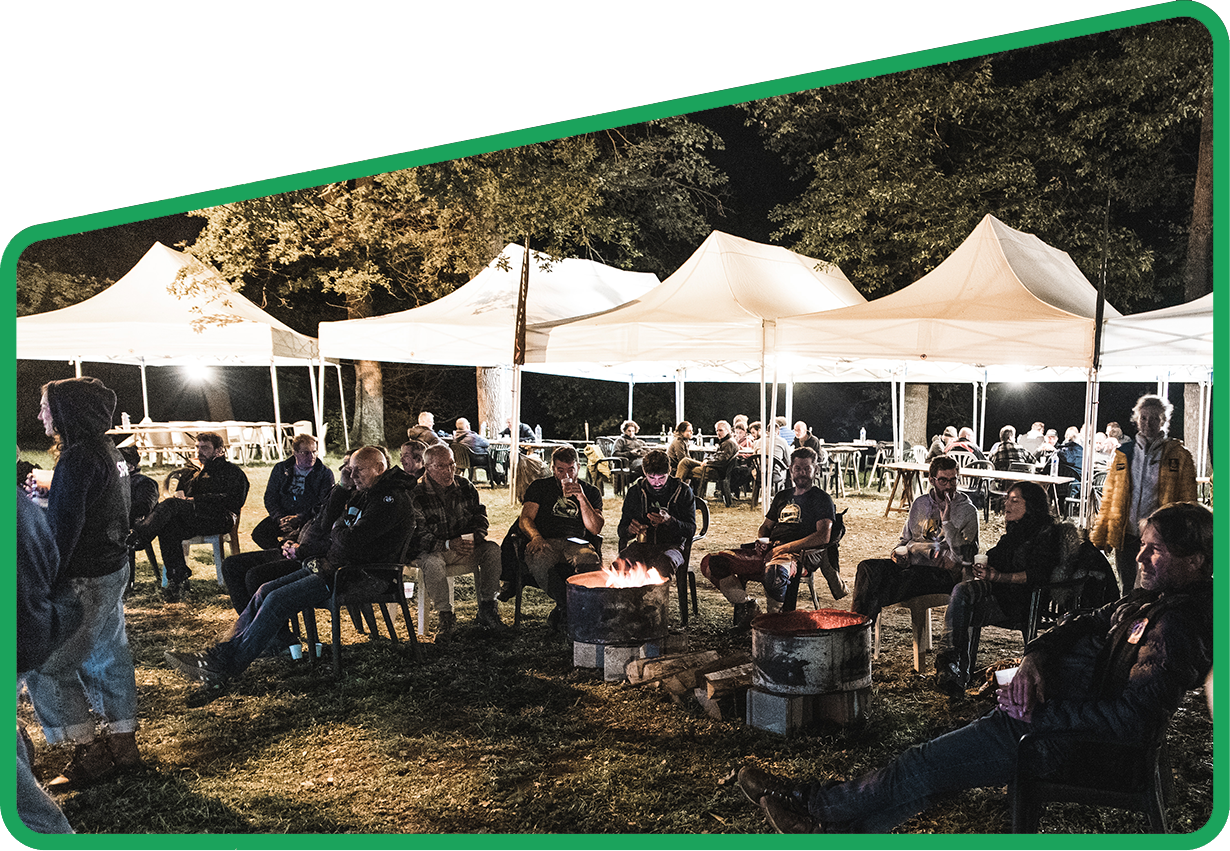 The camp
The bivouac is set up for the 3 days in the Langeac campsite in Haute-Loire, along the Allier. With its 17 hectares, whether you are in a tent, a van or a motorhome, you have enough to settle in comfortably while keeping your vehicles and trailers close to you.
Breakfasts and dinners are taken under the organization's tents and provided by our catering partner Chris&Co. Apart from water, drinks are not included, a bar at nice prices is available.
The Cocoricorando staff is present and available all weekend to welcome you and guide you, an electric stand allows you to recharge your devices (GPS, smartphone) and our osteo will put you back on your feet if necessary.
The program
We strongly recommend that you arrive on site to settle in on Thursday at the end of the afternoon.
The festivities begin on Friday morning, with the welcome breakfast from 7:00 a.m. followed by the general briefing at 8:30 a.m. Each day the departures are given in the wake of the morning briefing, regulated and organized separately between bicycles and motorcycles. By motorbike as in bicycle, if all goes well you left for a good day of driving and are back at the end of the afternoon, where the Rock'n'Trail festival part takes over from 5:00 p.m. from 11:00 p.m. in the immediate vicinity of the bivouac.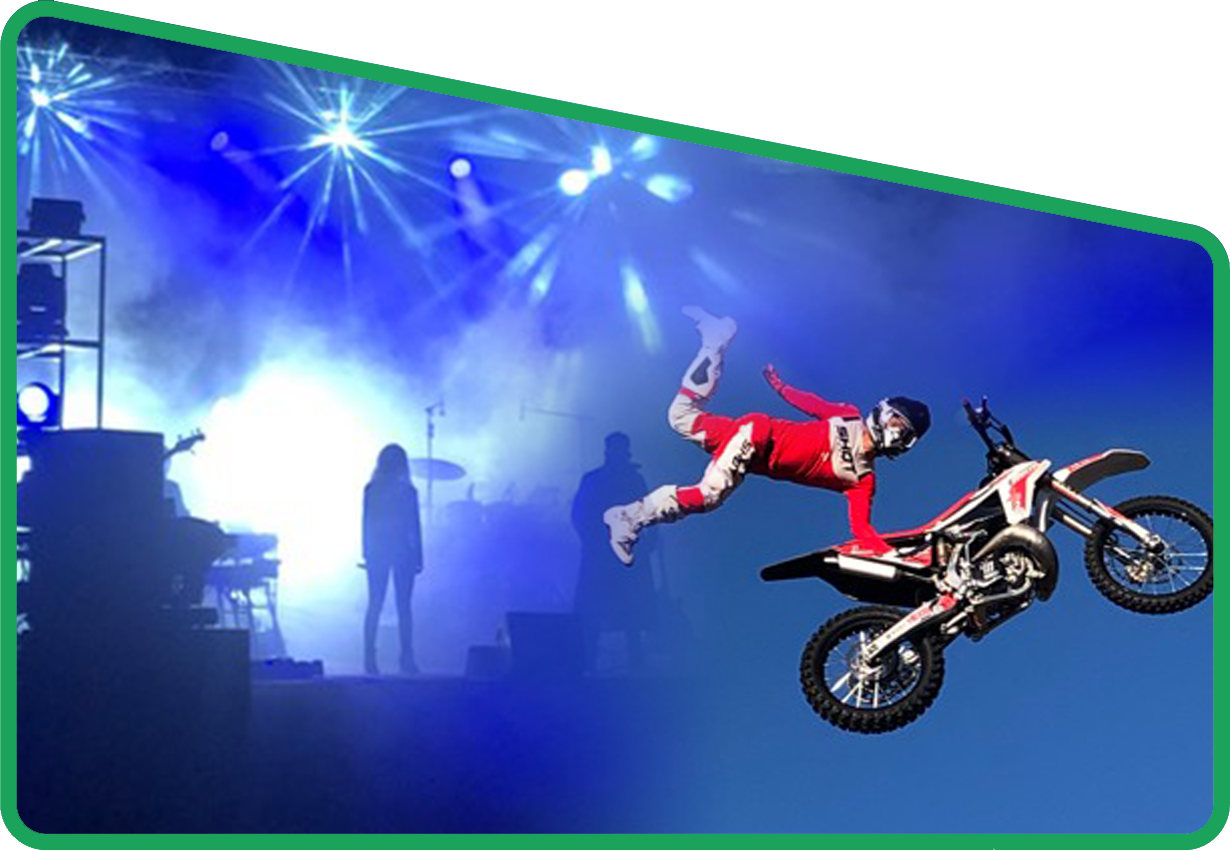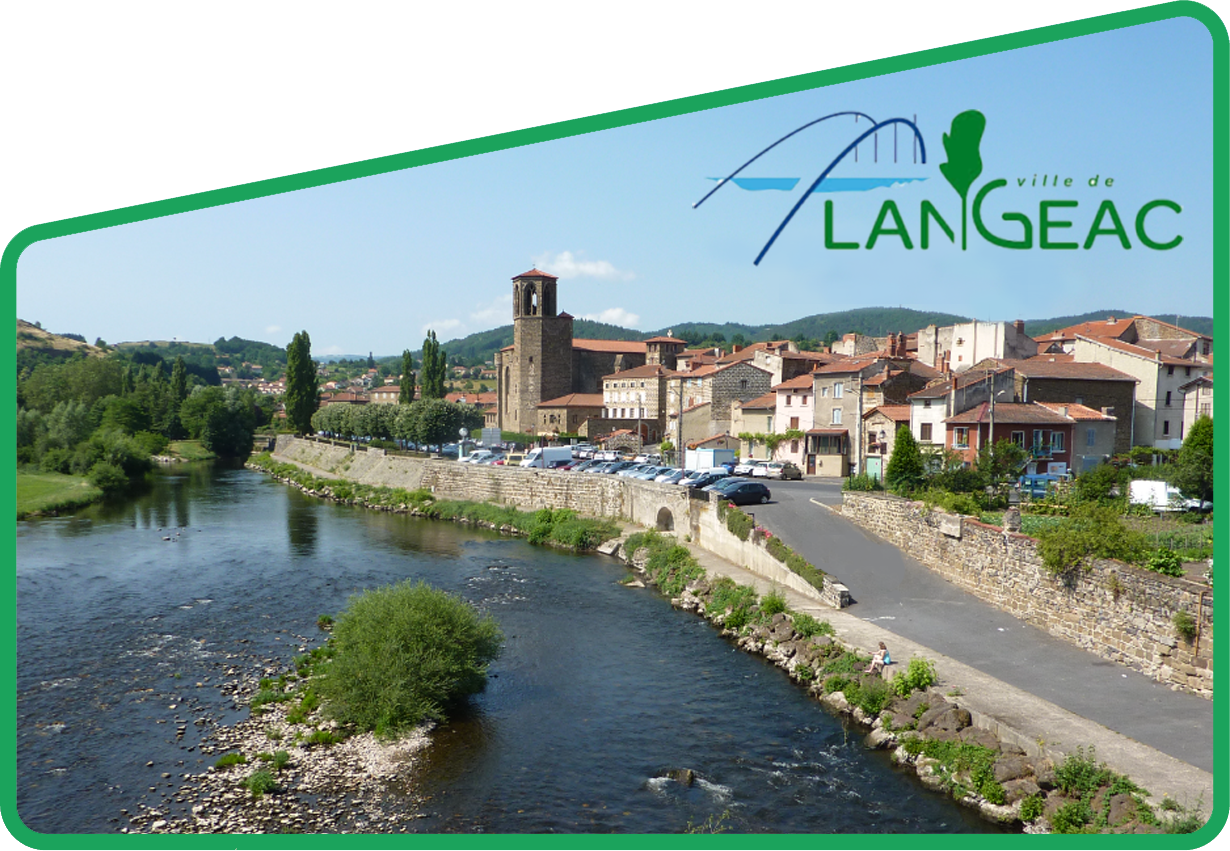 Rock ? A festival ?
Rock in the broadest sense, quality concerts on Friday evening and Saturday evening open to the local public in order to thank and celebrate with the people of La Lange who welcome us for 3 days. We will communicate soon on the detailed program of these concerts.
The festival part also offers a range of activities such as shows (trials, mountain biking...) or tests.

Le Rock'n'Trail Festival = La Vercingétorix !
As far as participation in motorcycle trail or maxi-trail is concerned, the Rock'n'Trail is none other than the famous "Vercingétorix" which, after having crisscrossed Auvergne for 8 years, resumes the 2022 scenario and settles therefore in Langeac in the form of a clover, changes its name, and is embellished with entertainment, concerts and shows.
Official videos of the different editions of the Vercingetorix: 
2022
/
2021
/
2020
/
2019
/
2018
/
2017
/
2016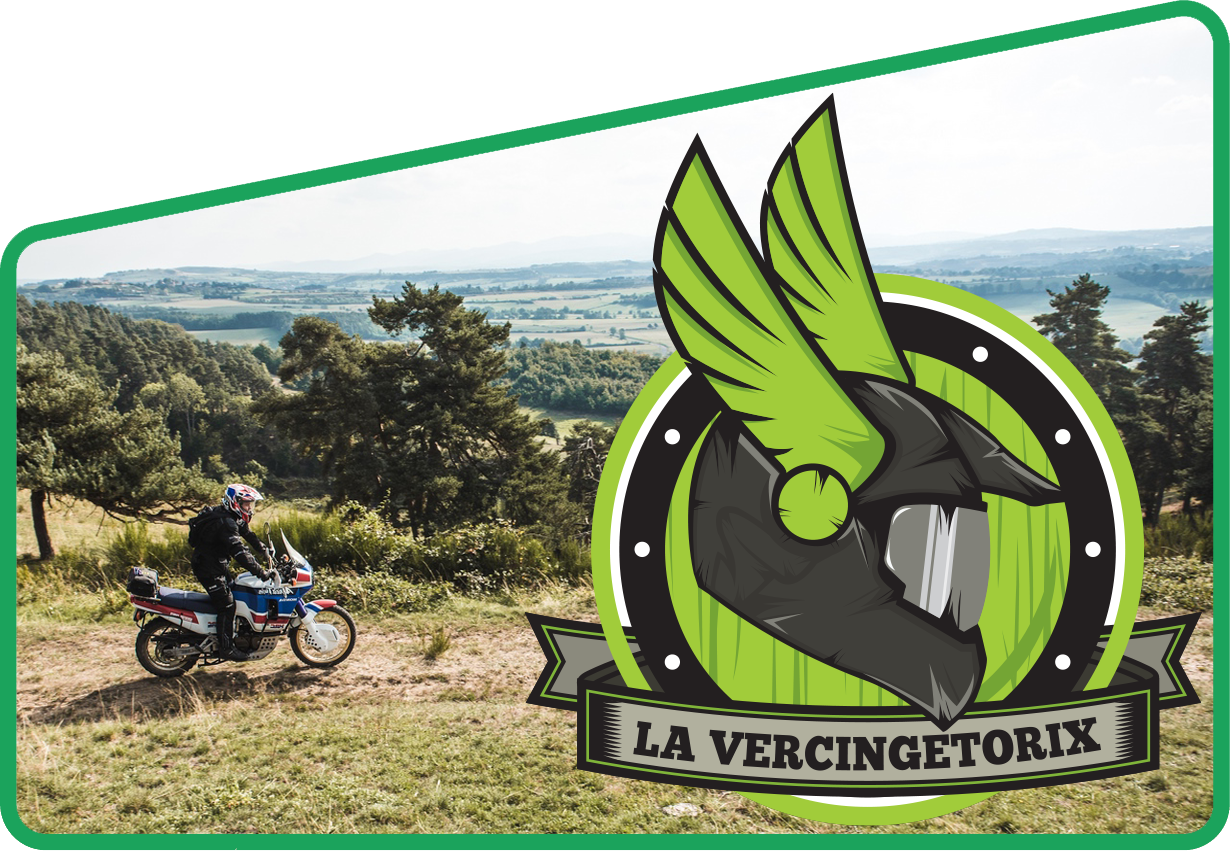 For what types of motorcycles?
The Rock'n'Trail motorcycle version is aimed first and foremost at maxi-trails, therefore large machines with large displacements that are very comfortable. The trails are also quite suitable. It is also possible with lighter motorcycles of small displacement or enduro type provided of course that you remain in full compliance with the Regulations (in particular concerning the noise of the machine!) but it is much less suitable and less in the 'mind. Vintages, sidecars and electric motorcycles are also welcome!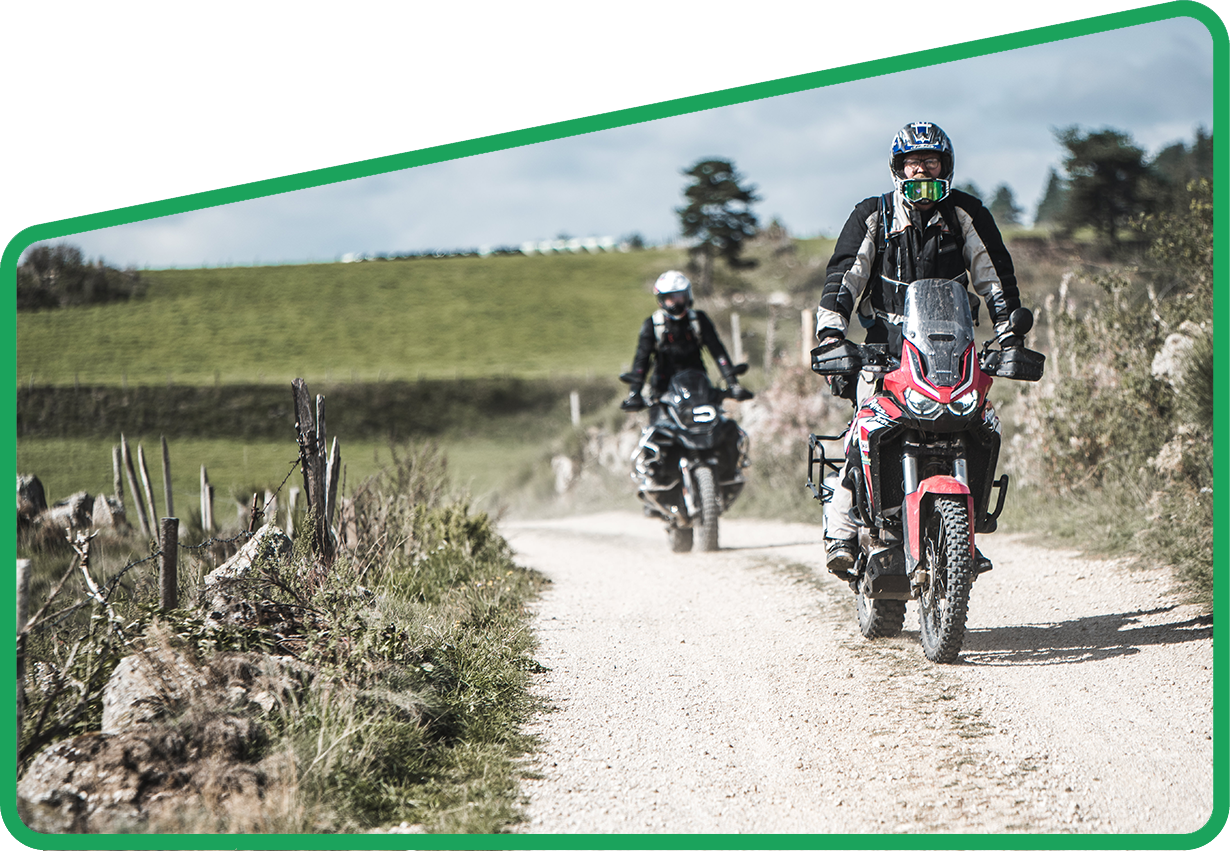 What does the route look like?
You have the choice between 2 mixed routes (road/trail) and a 100% road route: the "Adventure" route bypasses the greatest difficulties to stay on rolling and easy paths, accessible even for the first offroad laps, the "Extreme" course offers some additional sensations without being inaccessible, and the 100% asphalt course which generally serves as a fallback solution in case of fatigue or bad weather.
How to follow the course?
Navigation is done independently using GPS.
The Tripy GPS electronic road-book reader is wonderfully suited to this type of ride, and is available for hire as an option when registering.
You receive the 3 tracks a week before D-Day (in standard GPX and TRB format for Tripy owners), which allows you during the event to switch from one to the other as you wish, there is no there is no constraint.

Registering for Rock'n'Trail commits you to respecting the Highway Code, the route using roads and paths open to traffic.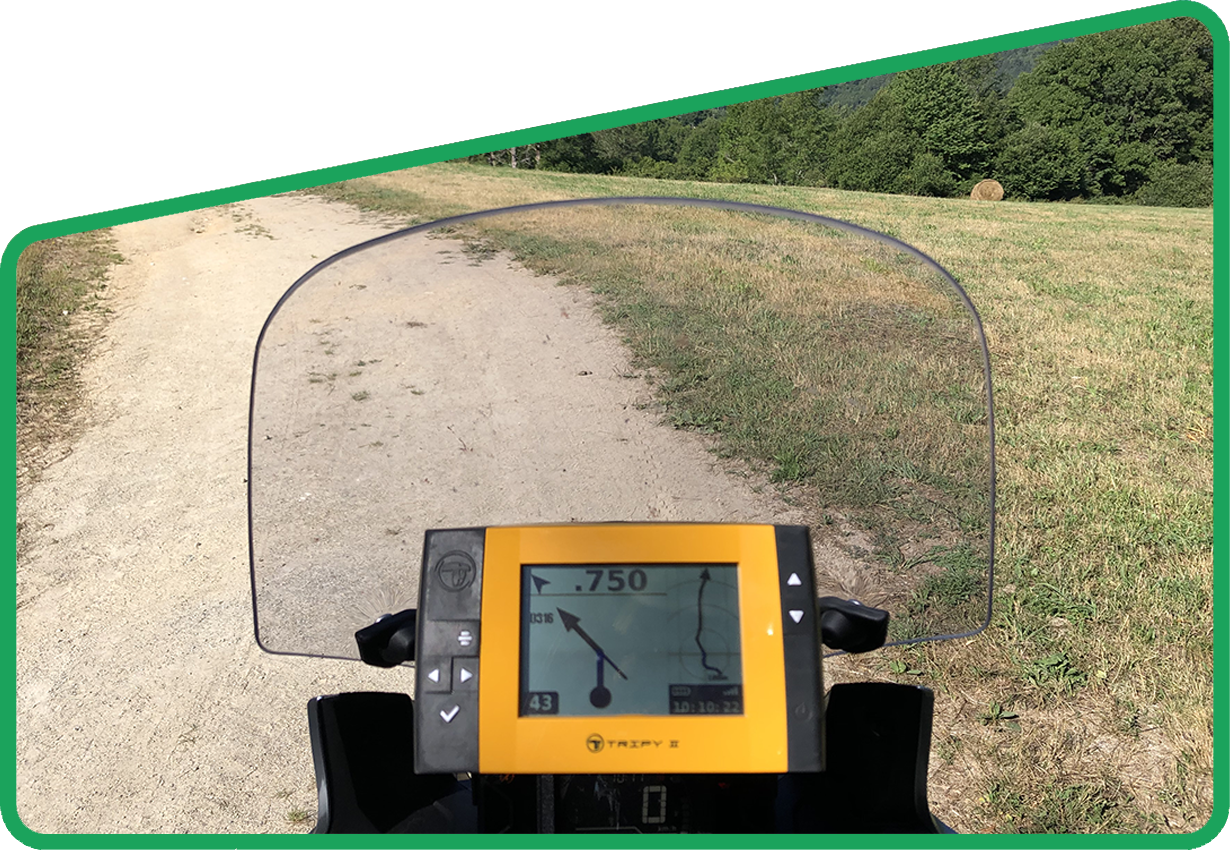 I have a motorcycle AND an e-MTB...
Do you ride a motorcycle (trail or maxi-trail) and also practice mountain biking? => Come with the 2 vehicles and do as you wish on site during the 3 days!
"Hey, it's raining, I'm going to take the bike today instead..."
"I did bike yesterday, I'll end up with a bike on Sunday, today I'm going to try the big e-MTB loop!"
"After 2 splendid days on a bike, this one won't start this morning... Fortunately, I took the bike to finish in style!"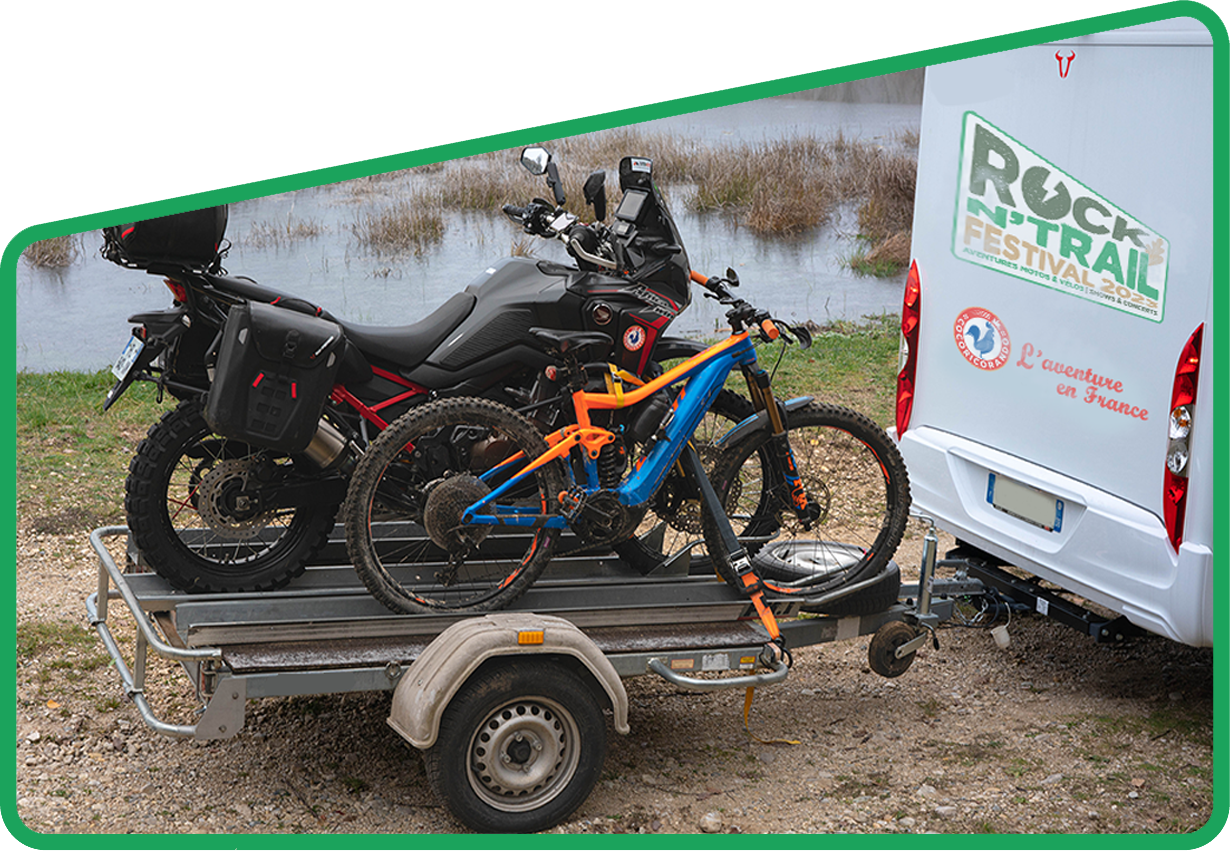 What types of bicycles?
As long as there are pedals, a saddle and handlebars, it's doable! But to dig a little deeper into the current wide variety of bike types, "gravel", "cross country" or "all mountain" seem the most suitable for having fun on the Rock'n'Trail. Avoid "enduros" and forget about road or purely downhill bikes. The types of bikes recommended can be electrically assisted provided they are homologated for the road, or muscular.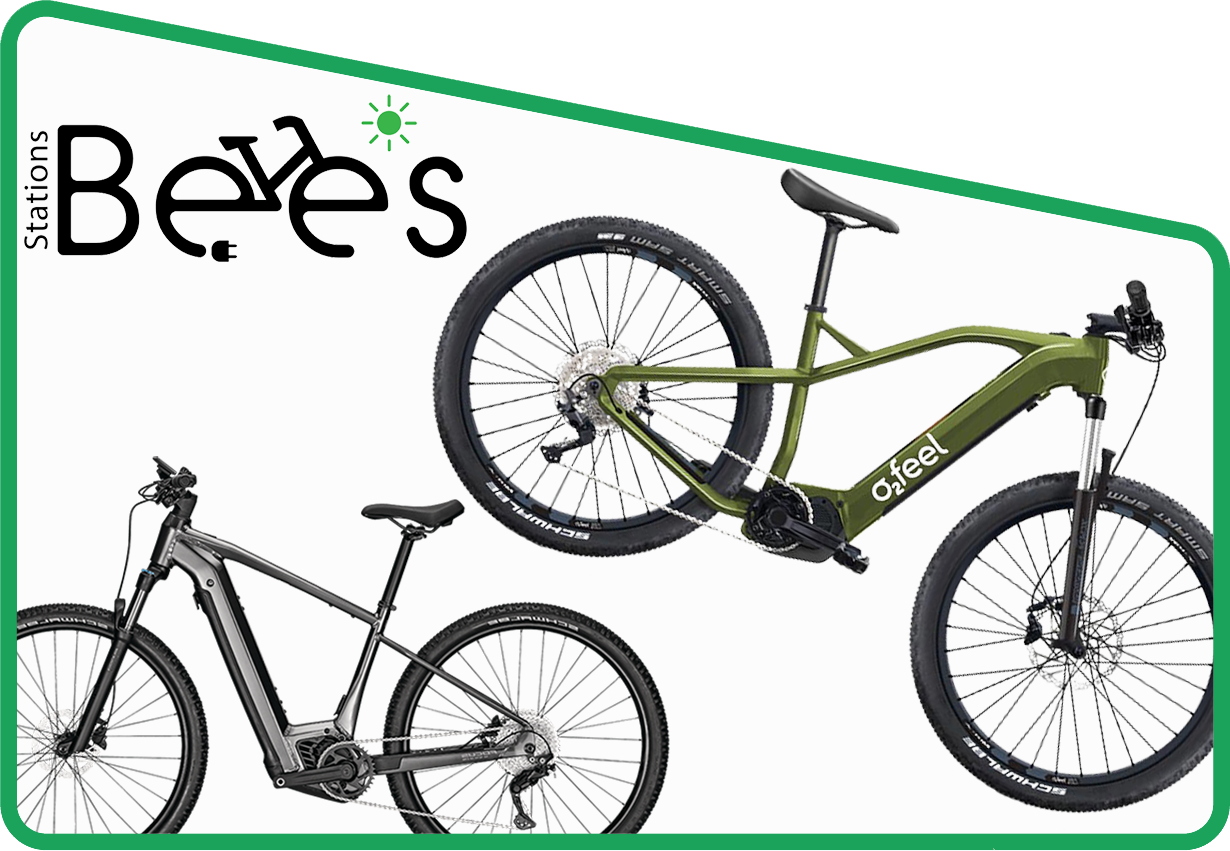 What does the route look like?
The Rock'n'Trail bike version is above all focused on hiking, so it's a ride that will allow you to discover a magnificent region, at your own pace and without great technical difficulty. The courses are mainly composed of rolling paths (mainly gravel, earth, grass) connected by small picturesque roads. However, it is not excluded to encounter a slightly more "fun" passage and a few "single tracks" here and there.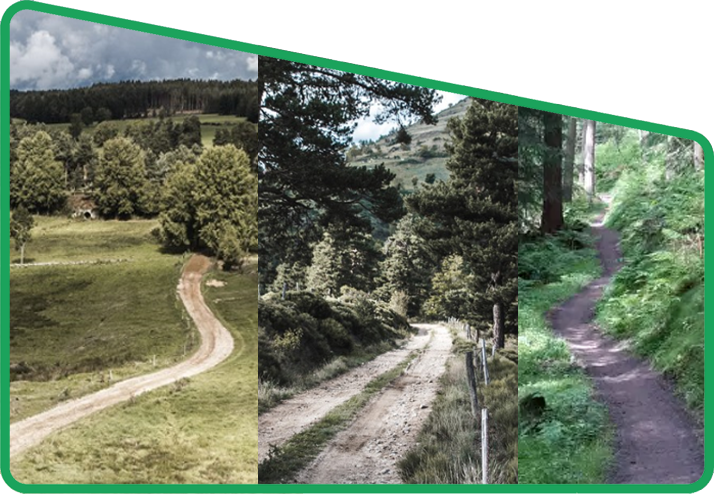 For each of the 3 days, several kilometer versions are offered on the same loop (approximately 50, 70 and 90 km), so you can personalize and above all improvise along the way.
The wild beauty of the Haute-Loire being closely linked to its relief, there is inevitably a drop, even if it never rises very high in altitude. It is necessary to count between 1000 and 1500m of cumulative elevation gain each day, made up of rarely long climbs.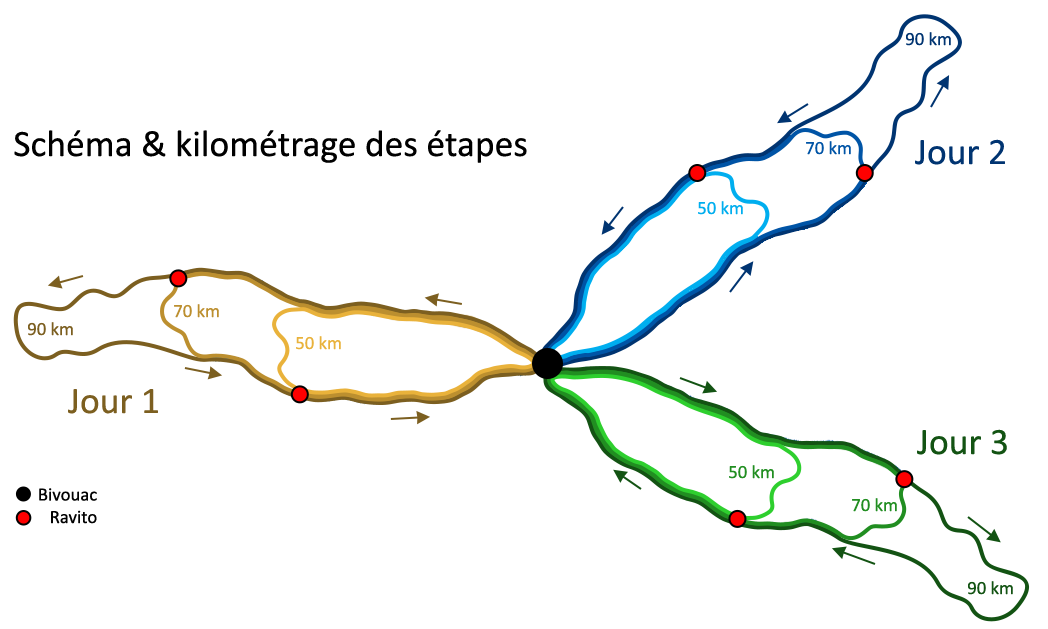 How to follow the course?
A week before D-Day you receive GPX files of all the routes offered so that you can customize your adventure as you wish. You therefore use your GPS or your favorite smartphone app independently, the route is not marked.
Little known in the world of cycling, the Tripy GPS offered for hire to motorcyclists can do the job perfectly also on the bike and will quickly attach to the handlebars with a quick release. Although it may seem a little heavy and bulky for a bike, it offers great comfort and great precision when reading the roadbook.
The practical aspects
- To secure your bike, especially at night on the bivouac, you can park it in the closed and guarded park dedicated to bikes. This is also where you can charge your pedelec.
- Lunches are not included, everyone will do according to their desire and their progress on the tracks. Suggestions for local catering outlets will be included in the booklet that will be given to you at the start of the event. The picnic basket option is available at registration (to be taken each morning and carried on the bike).
- In the event of a mechanical problem, our partner is at your disposal on the bivouac all weekend long (interventions included in the registration, excluding supplies and consumables). - 2 break place with drinks are offered to you every day on the track.
Other practical information will soon be available in our FAQ.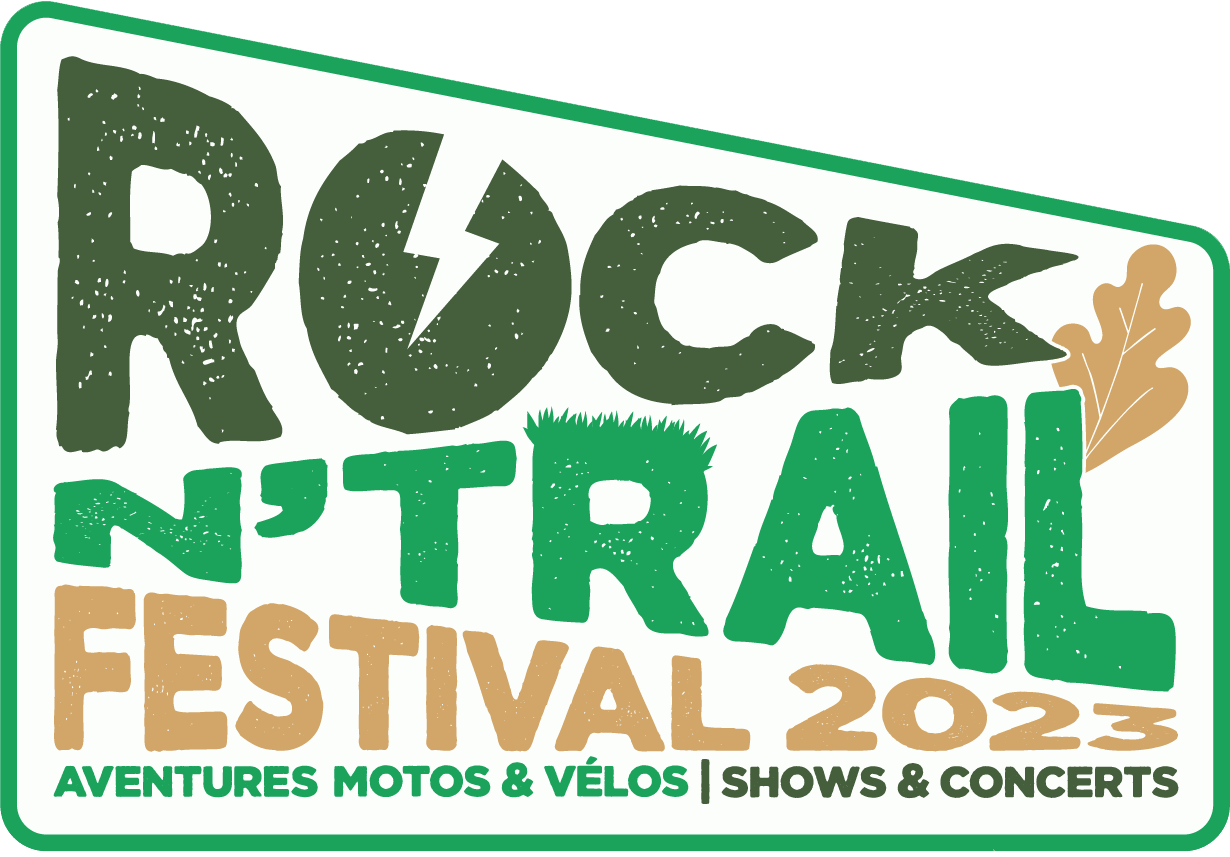 Official partners: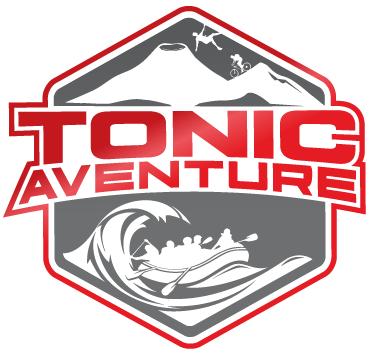 September 22 to 24, 2023
The Rock'n'Trail Festival lasts 3 days,
only the 3-day pass is offered.
Opening of registrations:
02/17 8:30 p.m.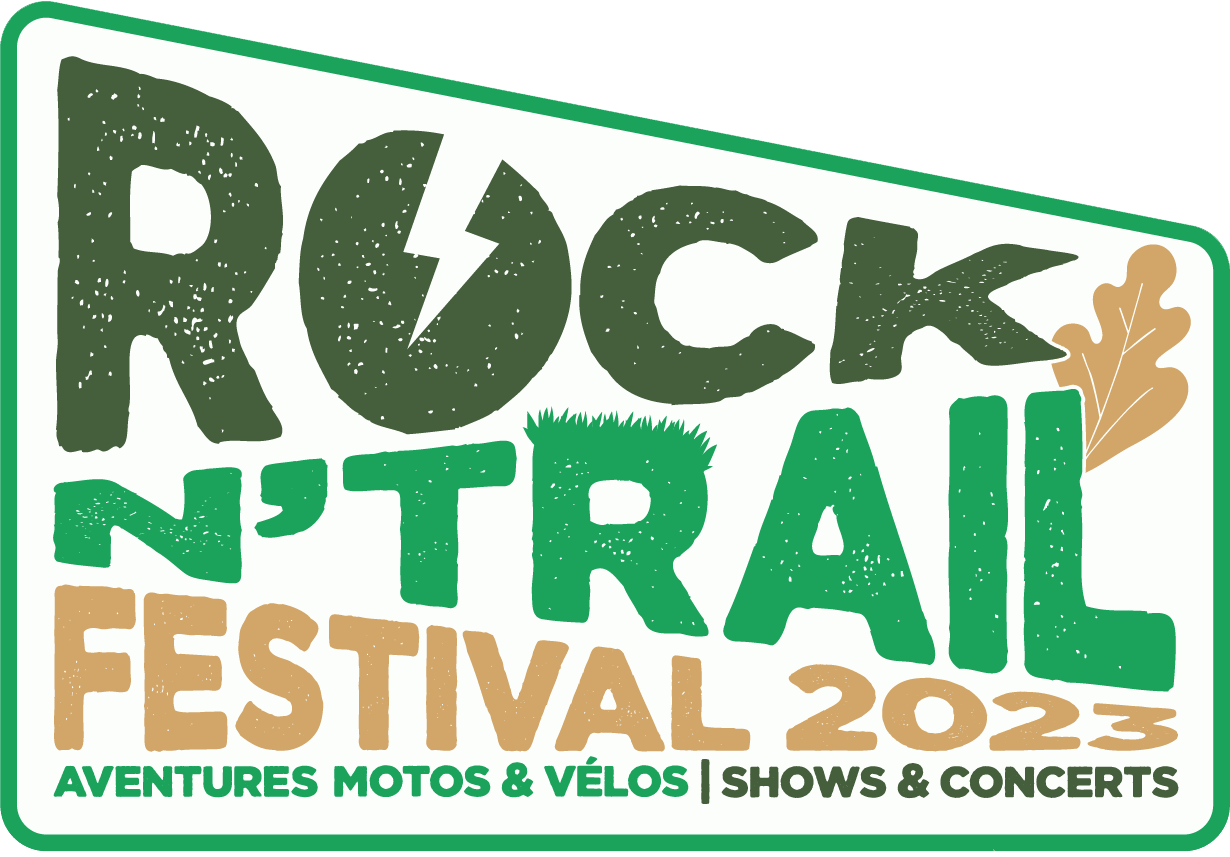 Rules / general conditions 2023 of ROCK'n'TRAIL: 
Rules RNT 2023
Registration includes:
- tracks in GPX (universal) and TRB (Tripy GPS owners) formats
- access to the bivouac site, its equipment and sanitary facilities
- access to activities, shows and end concerts during the day
- access to the charging station for small devices (smartphone, GPS)
- welcome breakfast on Friday morning
- breakfast on Saturday and Sunday
- Friday and Saturday dinners
- goodies
- hundreds of souvenir photos
- welcome, friendliness and atmosphere!

For bicycles & VTTAE:
- dedicated closed and supervised park
- dedicated electric charging stand
- break places with drinks on the trail
Options available:
- Tripy II GPS rental (€110 incl. tax)
- accompanying (or passenger) pass (€135 incl. tax)
- lunch picnic basket (€10 incl. tax/basket)
- dinner Sunday evening final (20 € incl. tax)
To register :
- create your account and/or connect to our site (1 person = 1 account = 1 registration)
- when registration is open, complete the online form below then validate the different steps.
- validate and then ensure your place at the event by making full payment of your commitment directly online by card, or WITHIN 10 DAYS by check or bank transfer.
After registration:
you will receive 3 emails (do not wait to check your "spam" if this is not the case!):
- validation of registration after receipt of payment (automatic and almost immediate for online payment ).
- a few weeks before D-Day the program and the first useful information, as well as accommodation suggestions for non-campers.
- 7 days before D-Day the latest useful information as well than trace files.
To save time, consider creating your account / logging in
before completing the registration form below.
Limit of inscription to 2023-09-10 midnight, or when the stock is empty
I have noticed that sending the online form alone does not constitute a booking of my place on the hike.
My place is reserved when my file is complete and validated by an email of the organization.
The number of places is limited, we recommend you not to delay in your approaches, first come, first served!