Event From 2023-04-21 To 2023-04-23
10 years already for this great 3-day ride, 2 bivouacs, 700 km of small picturesque roads and motorable paths, full of sharing, encounters and memories... Paris-Dunkerque is an accessible motorcycle adventure, close to from home, and a hell of a great human adventure!
The course
3 traces are proposed :
- "The Extreme" addresses the regulars offroad, without presenting impassable difficulties.
- "The Adventure" makes Paris-Dunkerque accessible to bikers who have never put their wheels elsewhere than on the asphalt. This trace bypasses the main difficulties of the "Extreme".
- "The 100% bitumen" offers a fallback solution, in case of tiredness for example.
A week before the start, each registrant receives all these GPX GPS tracks (standard), TRB (Tripy), PDF (paper), in order to be able to pass freely from one to the other during the 3 days.
If you do not have GPS, you can rent (when registering) a GPS / Tripy II electronic roadbook reader.


The trace we deliver to you is not obligatory, you will be able, at any moment, to leave it to go to visit a touristic place, take a coffee, or to arrive earlier at the bivouac.
Paris-Dunkerque uses small roads and motorized roads open to traffic. By registering at Paris-Dunkerque, you agree to respect the Highway Code, residents, animals, nature, roads... especially with regard to speed and noise level. The future of our hobby depends on everyone's behavior!
Do not hesitate to consult our FAQ to discover all the details.
For what types of motorcycles and which level ?
The Paris-Dunkerque is designed for trails and maxi-trails, we recommend a motorbike greater than 500 cc. For lighter motorcycles, thank you for contacting us.
"Old", sidecars and electric motorcycles are also welcome!
Young people (18 years old minimum), less young, beginners in offroad or skillful, everyone exchange and share his experience, that's what makes the charm of this event.
No competition, no stopwatch, no ranking. The speed must be reasonable, respectful and adapted to the situations and encounters.
The difficulties encountered are quite adapted to the motorcycles of the market, without preparation except adapted tires (nipples or crampons obligatory).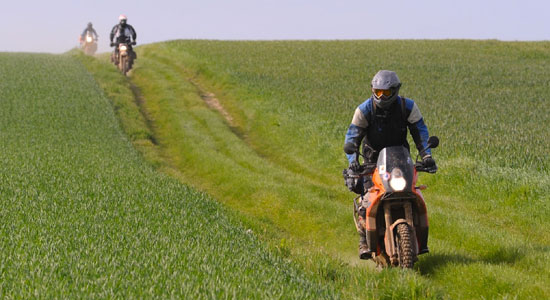 Steps
Depending on your pace, the stages last between 8 and 10 hours.
To let you manage your days and drive at your own pace, you are free to organize your lunch.
Friday evening and Saturday evening, all participants and any accompanying persons meet for dinner, just to discuss the adventures of the day. The bivouac spaces are designed to welcome your tents and are equipped with showers and toilets. Nothing obliges you to participate in bivouacs, you are free to choose the accommodation of your choice (at your expense in this case).
If the water is provided by the organization, the other drinks are not included in the registration: on each bivouac a bar is at your disposal, at your expense.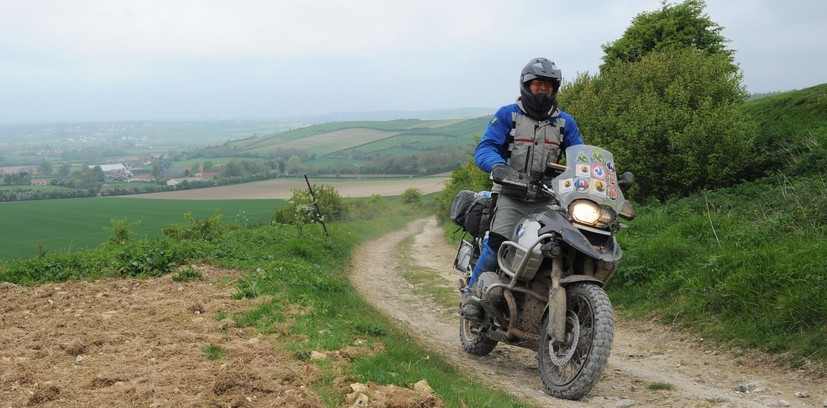 Official partners :

The Paris-Dunkerque 2023 is SOLD OUT!
You can register on WAITING LIST, if a place becomes available we will contact you.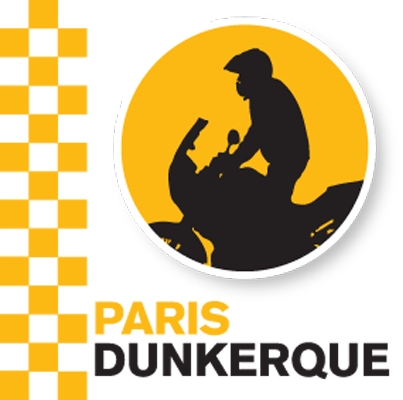 PARIS-DUNKERQUE RULES / GENERAL CONDITIONS 2023
The Paris-Dunkerque lasts 3 days. Only the 3-day package is offered.
DATES of the next edition : from April 21 to April 23, 2023.
Opening of registrations: 04/11/2022 - 8:30 p.m.
Registration includes :
- tracks ("Extreme" / "Adventure" / road) in GPX, TRB and PDF formats
- access to bivouac area
- access to sanitary facilities
- welcome coffee on friday morning
- Saturday and Sunday breakfasts
- Friday, Saturday dinners
- 10th anniversary gifts and entertainment!
- Hundreds of souvenir photos
Available options :
- Tripy II GPS rental (110 € all taxes included)
- Accompanying package (or passenger) (135 € all taxes included)
- picnic basket for lunch (10 € all taxes included / basket)
- Luggage transport package (110 € all taxes included)
- Sunday final dinner (20 € all taxes included)
To register :
- create your account and/or login to our site (careful : 1 pilot = 1 account = 1 registration)
- When the registrations are opened, complete the on-line form
- Validate and then ensure your place on the event by making full payment of your commitment with creditcard online, or UNDER 10 DAYS with bank transfer.
After registration:
you will receive 3 emails:
- validation of the registration after receipt of payment (automatic and almost immediate for online payment).
- a few weeks before the big day, the program and the first useful information, in particular meeting places and accommodation suggestions for non-campers.
- 7 days before the big day the last useful information as well as the trace files.
No news from us pertaining to this calendar, check the "spam" in your mailbox and do not hesitate to contact us at contact@cocoricorando.fr.